Online Certificate Training Programme on
"Hands-on Functional Verification using Embedded UVM"
(14-18 October 2019 LIVE Streaming ONLINE,
5pm to 11pm IST

)
In association with

Objective : 
Discrete Event Simulations and TLM

UVM Concepts and Mechanisms (Phasing, Objection, Callbacks, Sequences, Virtual Sequencer, Reference Model, Config Object)

Opensource verification platform embedded UVM

UVM Test-bench Architecture

OOP Principles and Patterns

Bus Protocols and Bus Functional Models (Memory Mapped, Streaming and Serial Protocols, Amba and Avalon bus standards)
Course Contents:
Day 1: Introduction to Discrete Event Simulation Technology, Verilog, and Functional Verification, Getting acquainted with Simulation Tools (Theory– 4 hours, Lab– 2 hours)
Day 2: Data Communication in Hardware, Bus functional models, Types of Hardware Buses (Serial, Memory Mapped, Streaming), UVM report mechanism (Theory– 3 hours, Lab– 3 hours)
Day 3: Concepts of object-oriented programming, EUVM data types and program structure (Theory– 4 hours, Lab– 2 hours)
Day 4:UVM Phasing  and Objection mechanisms, TLM ,OOP Design Patterns (Template and Strategy) (Theory– 3 hours, Lab– 3 hours)
Day 5:  Advanced UVM Concepts – Factory, Callbacks – OOP Design Patterns (Factory and Observer), Concepts of SoC Verification (Theory– 3 hour, Lab– 3 hours)
Course Outcome : Start coding UVM test-benches and bootstrap Opensource Verification projects on GitHub.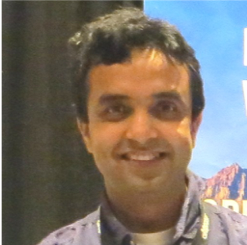 Instructor: Mr. Puneet Goel, CTO, Coverify Systems Technology, www.coverify.com
Puneet has 24 years of experience in the VLSI industry where he worked for STMicro, Motorola, Texas Instruments and TranSwitch.He has two US patents to his credit and participated in the IEEE technical committee that defined SystemC 1666-2011 standard.He is the lead developer of Embedded UVM.
How to Apply ?
Online– After making payment of Rs. 2500/-., the participants have to fill the below registration form with transaction details
Course Date: 14-18 October  2019
Last Date of Registration: 09/10/2019
Online Registration link: Registration CLOSED !!
Registration Fee : Rs. 2,500/- for Faculties, Industry Personnel, Student & Research scholars.
Mode of Payment: Online Only (RTGS/NEFT)
For Online Transfer
Bank Name : State Bank of India
Account Name: IIT Guwahati R and D E and ICT Academy
Account No : 36071160089
IFSC Code : SBIN0014262
Bank Name : State Bank of India
Bank Address: IIT Guwahati, GHY- 39.