Hi
It simply means "This would not have been possible without your support"
Started a simple website in the year 2011 with an intention to upload my IITB notes and now, in 2018, one of our papers (based on
TCL programming Part 1
and
TCL programming Part 2
course) has been selected at CSTIC (China Semiconductor Technology International Conference). Below is the link (Scroll down till the end to see our paper topic)
This one is the second in a row, after out paper had been selected last year to present at a conference in England, and I am sure, many more to come. This is a very bold step for our company to move from LMS (Learning Management System) to EMS (EDA Management System), and finally we envision, very soon to be in DMS (Design Management System)
This year has been a roller coaster for us, with so many products launches already done, few more are in pipeline till mid-April and couple of planned tape-outs using 'vsdflow'. And this is just the beginning of the year.
Talking about 'vsdflow', it's the main theme of this paper, and if I had to describe it in few lines, it's a 'plug and play (PnP)' EDA management system, built for chip designers to implement their ideas and convert to GDSII.
'plug and play (PnP)' refers to switching between any EDA tools, for e.g. user can plug Cadence Genus for synthesis, Synopsys ICC for PNR and Tempus for sign-off STA.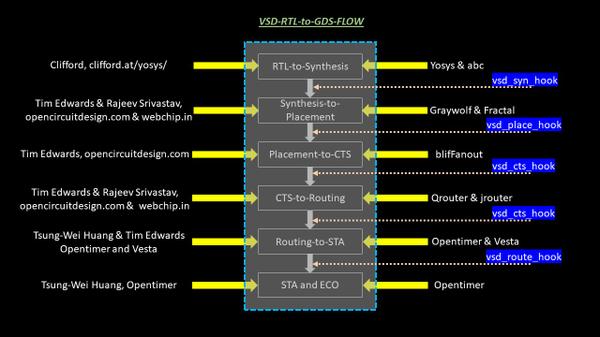 Look at the above image, and you will realize, 'vsdflow' would not have been possible without constant support from people mentioned in above image. A big THANKS to all of them. A big THANKS to all people who have tested it through TCL programming course on Udemy and provided feedback, based on which its constantly getting improved for more and more practical applications
That's the pace at which we are at. Don't be surprised if, by end of this year, you see a design being taped out using 'vsdflow'
I need all your best wishes and support which you have been constantly giving for the past few years. And, as always, stay tuned for more exciting courses, product launch and VSD progress. Because We grow only when you grow