"The purpose of education is to replace an empty mind with an open one" – Malcolm S. Forbes
I must say, the purpose of this workshop was satisfactorily achieved at Day 1
Hey There,
If you have been following our blogs and website for past many years, you would have seen our logo, our banner which says, "open to innovate" or "design at $0". These were our company's mantra for past few years now. Remember….I must say, we witnessed our 'mantra' at day 1 of RISC-V workshop, with India adopting RISC-V national ISA. Its not far that we will see many innovations in the world of open-source from India. Why I say so? Let me brief you about day 1 of RISC-V workshop
It started with a welcome speech from Prof. Kamakoti Veezinathan at IIT Madras and G S Madhusudhan, Principal Scientist, CEO and Co-founder of InCore semiconductors – India based company and a leading provider of silicon proven RISC-V processor and SoC IP
This was followed by keynote from Rick O' Connor, executive director, RISC-V foundation, and we remember this to core of our heart, because of the below statement he made – "RISC-v is present in 27 countries and can be used by 57 % of population of World soon" That's the spread of open-source ISA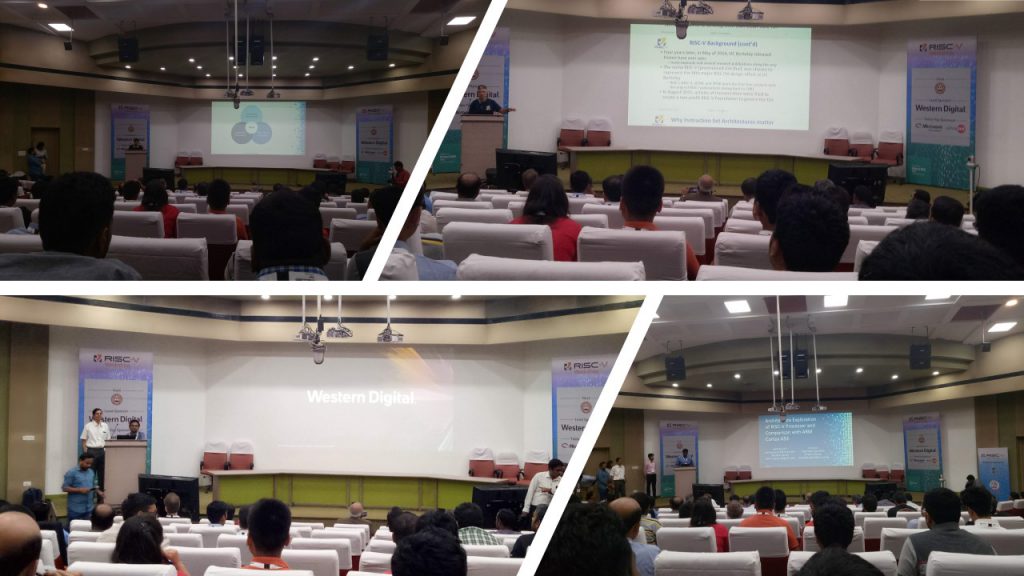 This was followed with a talk from Gnansekar Rajakumar (Technologist) and Ravikumar Gaddam (Staff engineer), both from Western Digital, where they listed applications which was used to evaluate the architecture and tool chain. They also listed suggestions and recommendations on tool chain and ISA updates
There was also a very interesting talk by Neel Gala, CTO of Incore Semiconductors Pvt. Ltd., where his company focuses on providing customized SoC solutions in IoT sector primarily in the domains of security, reliability and intelligence. This talk was perfectly in par with the concerns raised in DAC2018 at Moscone center, about security. You might want to watch this talk once its uploaded on RISC-V website.
Post networking break, there were 2 very interesting talks by Vivek Tyagi, Head Sales, Sandisk Western Digital and Huzefa Cutlerywala, Director, Business Development, Open Silicon | a SiFive company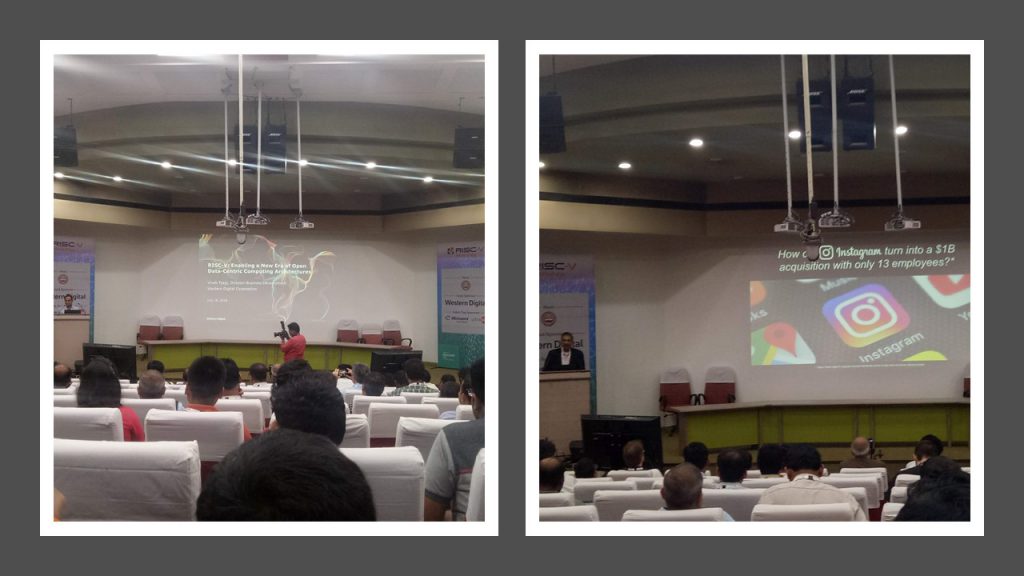 While Vivek's talk was more focused on enabling a new era of open data-centric computing architectures and an extended focus on the commitment which Western Digital made, few months back, about releasing 1 billion cores using RISC-V ISA, Huzefa presented innovation opportunities towards making custom chips with next generation Freedom platforms
The day ended with a very exciting panel discussion and there was a healthy debate about how can a RISC-V based ecosystem evolve in India. I would say this "healthy" as many new options, obstructions and solutions came up, about how do we go about opening ODM's in India. Looks like its tough, but its possible and we are heading in that path at very rapid pace
Finally, day 1 ended with some nice pictures with Rick, myself, Prof. Kamakoti Veezinathan and many more, which will be uploaded soon.
After all these talks, discussion, debates that happened in this workshop in India, has proved to me and the world, that "if you looking to invest your money and see it grow, your address in India"
Looking forward for "day 2" and our company's talk at 2pm IST. We will be on Facebook LIVE at 2pm. Don't miss this as our talk is an extension to open-source ISA i.e. opensource EDA….
So stay tuned, stay excited and happy learning….