Hi
Last week we conducted Machine Learning contest where participants were asked to modify loss function program to bring out best possible accuracy in terms of mean and sigma, by designing a new multinomial model. We have a winner and a special mention
Congratulations to winner: Has Rajoria
Below are his resistance estimation contest results:
Training error mean= -0.00331069488150845 and distribution= 0.09674854112718857
Validation error mean= -0.0016084106023661153 and distribution= 0.09482780050653322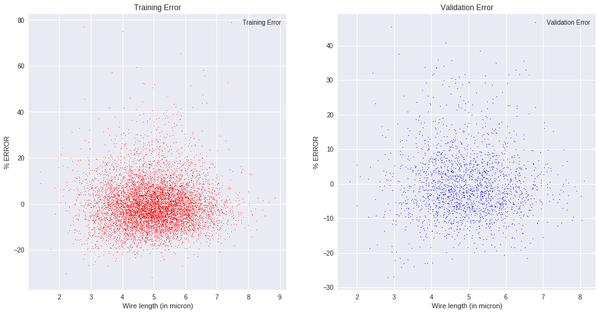 Congratulations and Special mention: Vadim Borisov
Vadim decided to implement a two layers artificial network. The first layer of the ANN consists of 20 neurons and the second one has 10 neurons. He used adam optimization algorithm with, with learning rate 0.001, and training epochs 10000. As an activation function he applied ReLU.
These are his results:
Training   error mean= -6.1921483328328035 and distribution= 2.709928734593149
Validation error mean= -6.098737028236493 and distribution= 2.71776156021006
Vadim and Has, please get in touch at support@paripath.com to claim your book prize
Really appreciate all effort taken from all participants who attempted this contest. You all really deserve a certificate from our company (VLSI System Design Corp. Pvt. Ltd) for your participation. Congratulations to Kirtesh Tiwari, Shubham Sarkar and Pankaj Pandey Please email your complete name which you wish to see in your certificates, to kunalpghosh@gmail.com
Congratulations once again and happy learning