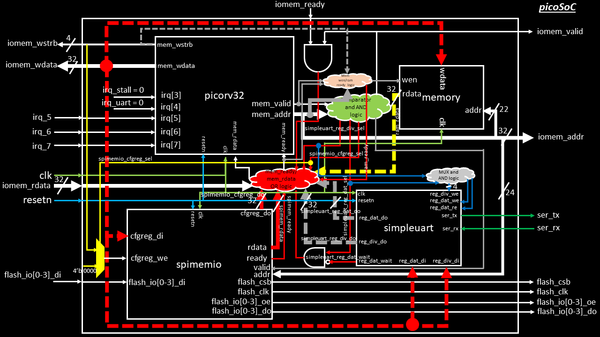 Hi
Just to give you some background, picoSoC is an example SoC using PicoRV32, and PicoRV32 is a size-optimized RISC-V CPU which implements RV32IMC instruction set architecture.
Now, while I was working as Physical design engineer in my first design company, I had always pushed to spend around 30% of design cycle on having good floor-plan, because a good floor-plan will always save your design-cycle run-time, and give you far better PPA (power, performance, area)
We are starting to implement PicoSoC hierarchical physical design in about a week (more to come on this later), so pour in your ideas to make the below floor-plan a better one. You can comment or email your ideas to my personal email id kunalpghosh@gmail.com
I have made sure, the logical routes don't go over the top of any blocks. Be prepared for a follow-up webinar on this topic.
All the best and happy learning