"No matter what people tell you, words and ideas can change the world" – Robin Williams
That's exactly what happened in DAC2018 at Moscone Center, San Francisco. I was invited for a talk in DAC summer school, on my work "vsdflow" which is also one of the main topics of discussion in my "TCL programming" course on Udemy. I would say, the entire DAC was a journey of events, exchange of ideas between brightest minds of the world.
It started with DAC summer school, where, along with me, there were couple of more speakers shown in below image: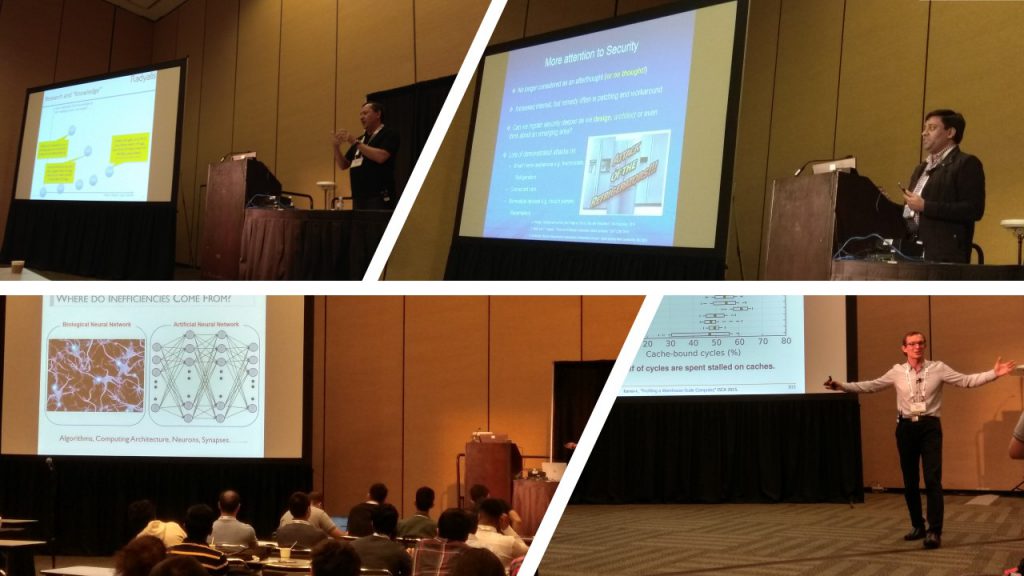 Onur Mutlu, Professor of Computer Science at ETH Zurich, talked about development of in-memory processing designs, being adopted in real computing platforms and data-intensive applications.
This talk was followed by Kaushik Roy from Purdue University, who introduced stochastic learning, which reduces storage requirement, while maintaining accuracy.
Then came Sani Nassif from Radyalis and, would say, one of the best talks I have heard so far on EDA. His journey from old calculators to iphone's to machine learning to data mining was really an eye-opener. He has seen the world changing in front of his eyes and is amazed on how software replaced hardware, future of Moore's law and EDA tools.
This was followed by my talk on vsdflow and was concluded by Seetharam Narasimhan from Intel, who discussed about security of SOC products
Next day was DAC inauguration day by Sharon Hu, and below image captures it all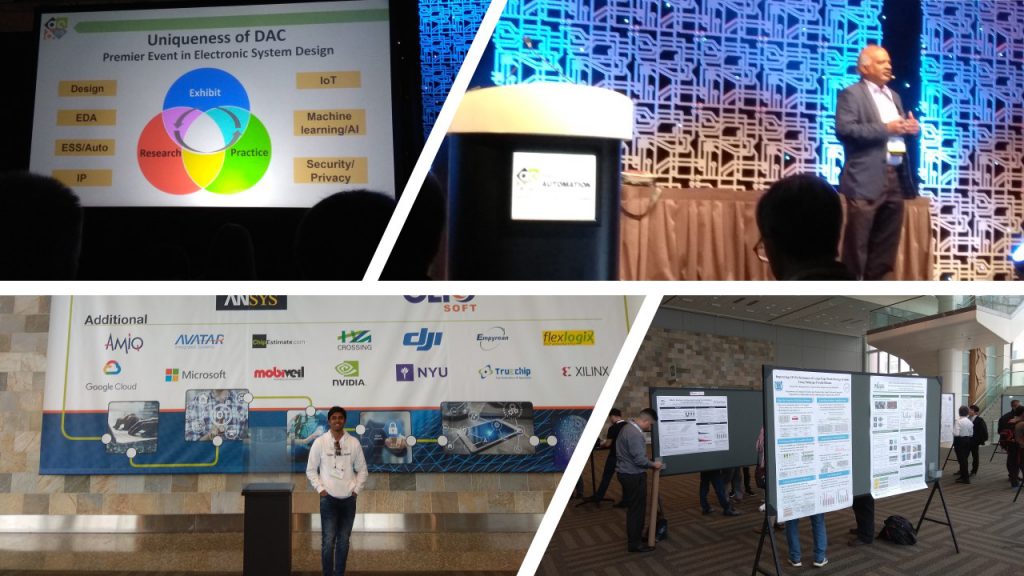 Uniqueness of DAC is it's a premier event, not only for EDA, but for all streams, right from embedded systems to MOSFETS to advanced machine learning and cloud computing. The posters which were presented were high-quality covering topics from electro-thermal simulations for analog designs, 3D IC's, power-efficient clock tree design, multi-cycle path exceptions automation and verification methodology.
The most interesting key-note was given by Prof. David Patterson, an American computer pioneer and academic who has held the position of Professor of Computer Science at the University of California, Berkeley since 1976. He covered the history of ISA's and even the future of ISA's in 40min and that was amazing. Below image covers it all: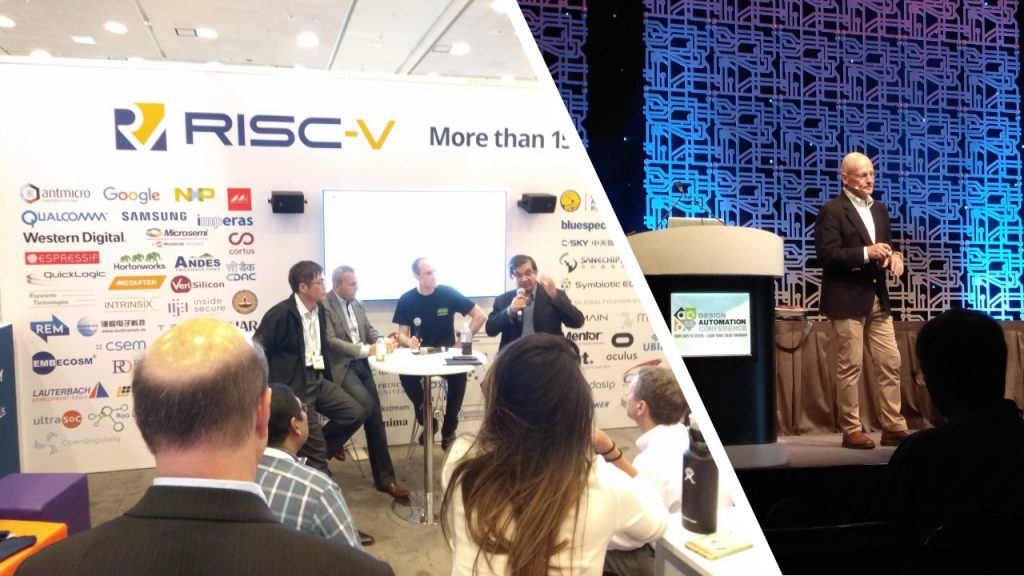 Not only that, there was a "Straight Talk" by Naveed Sherwani, SiFive CEO who discussed what's changing in chip architectures, where open-source hardware fits in, who is using it and why he's using it, and advantages and disadvantages of an architecture, which can be modified by vendors.
This talk really inspired us, as most of our courses and vision are in-line with his talk about the future.
When someone tells you, that you "are and were" doing the right till now, that's inspiring.
And finally, some concluding pictures which mentions that next DAC is happening in "Las Vegas". Since its Vegas, it must be wilder and bigger than this one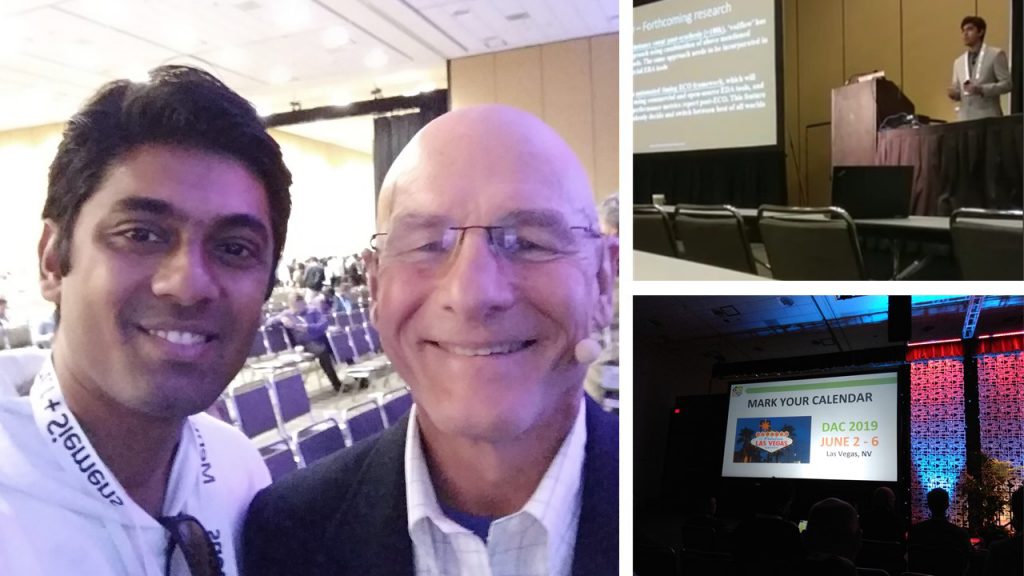 I also had a chance to click pictures with Prof. David Patterson, after months of following and working with him online, on RISC-V courses on Udemy.
To sum up, this event has really re-shaped the paths to reach our company's vision and very soon, you will see some exciting updates from us which will help you in a better way.
"Meeting sharpest minds on earth, discussing the future, embedding our dreams into that and plans to make it a reality" – That's what DAC was about for me…
All the best and happy learning….