VSDOpen 2019 Registration
Welcome to the Worlds only online conference in Semiconductor Industry VSDOpen Conference 2019. With enormous support and the global presence of audience from different segments of industrial lobby and academia made VSDOpen 2018 a highly successful event. Evolution is a change in the genetic makeup of a population over time, the online conference is one kind of evaluation everyone adapts soon.
VSDOpen Conference 2019 is an open online event and  global platform for professors, engineers, young researches, students, industrialists in the areas of open-source processor design and CAD tool development to share their research experiences and indulge in interactive discussions to leverage the power open source and RISC-V Architecture to drive the industry-specific developmental trends in their respective industry.
With the international speakers on different tracks of conference,  VSDOpen is focused on exploring how this open-source EDA and RISC-V architecture is rapidly expanding into various industries, powering various processors that deliver new design and high-end gadget demand.
Speakers:
Prof. Andrew Kahng at UC San Diego, OpenROAD Project Principal Investigator (DARPA Idea Program)
Calista Redmond, CEO RISC-V Foundation, Ex-Vice President of IBM Z Ecosystem
Daniel Nenni, Founder of SemiWiki, Business development professional
Prof. V. Kamakoti  at IIT Madras, Associate Dean ICSR, National Security Advisor Board Member
Ted Marena, Director RISC-V Ecosystem Western Digital, Interim Director CHIPS Alliance
Frank K. Gürkaynak, ETH Zurich, Director of Microelectronics Design Center
VSDOpen Conference is the only Online conference that will bring together researchers who are committed to open-source principles to share their experiences and coordinate efforts towards developing a reliable, fully open-source EDA flow and RISC-V architecture.
Virtual Demo of RISC-V core:
Core and application developed by PULP team
RAVEN core developed by Efabless Team
BOOM core developed by University of California, Berkley
SHAKTI core developed by IIT Madras team
VSDOpen conference will give you the front row seats to watch this universal phenomenon of open source development in EDA flow and RISC-V architecture, two major parameters to develop the best performing processor, in turn, a Gadgets.
Final Schedule: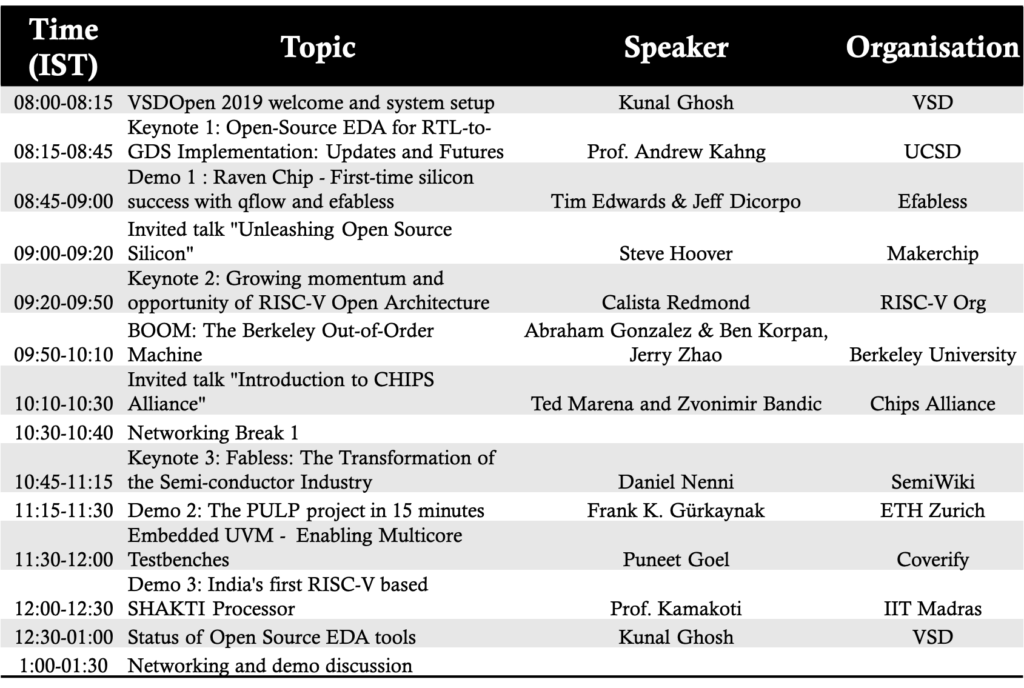 Location
This is an online conference, so you can attend from the comfort of your desk.
It's global!
We expect participation from all across the globe. Based on FCFS registration, you get to attend a live broadcast.
Attendees
We are opening only 1000 attendees seats in live sessions. Book your "Watch Live" seat to see it first and ask your speakers questions.
Sessions
12 power-packed sessions, spread across 5 hours, from some of the best of the best speakers. Sessions vary from 30 mins to 45 mins in length and spread out through the half a day depending on each speaker's country & time zone.