Welcome to a milestone in the world of VLSI and semiconductors - the VSDOpen 2023 Online Conference. This year's conference is not just another event; it's a defining moment that promises to reshape the contours of the industry.
RISC-V Product Development Hackathon: The Future Begins Here
For the very first time, VSDOpen is playing host to the RISC-V product development hackathon finale. From over 200 innovative teams who poured their ingenuity into RISC-V based product ideas, a mere 11 have risen to the top. These selected teams will converge in Bangalore, presenting their working prototypes to a panel of elite judges with decades of product expertise under their belts.
Witness Innovation Unfold LIVE
The entire conference, brimming with talent and innovation, will be LIVE streamed on YouTube. It's more than just a showcase; it's an opportunity to witness firsthand the transformative Product-Based Skilling in VLSI and semiconductors taking root in India. This paradigm shift heralds the future of VLSI and semiconductor talent development.
A Proven Model of Excellence
Over the years, our model has been honed to perfection, standing as a testament to our commitment and vision. As of now, this model is already being implemented across numerous colleges and universities in Bangalore. VSDOpen has always been the stage where we unveil our progress, and as we mark the 6th year of this tradition, the excitement is palpable.
Sujay Samuel Shanthakumar and Samuel
Robinson R

SSN College of Engineering, Chennai

Vinayak Mishra and Sahil Savanth M

Kanukuntla Rajashekhar and Boddula Navaneeth Kumar

Kakatiya university, Warangal
Mahatma Gandhi University, Nalgonda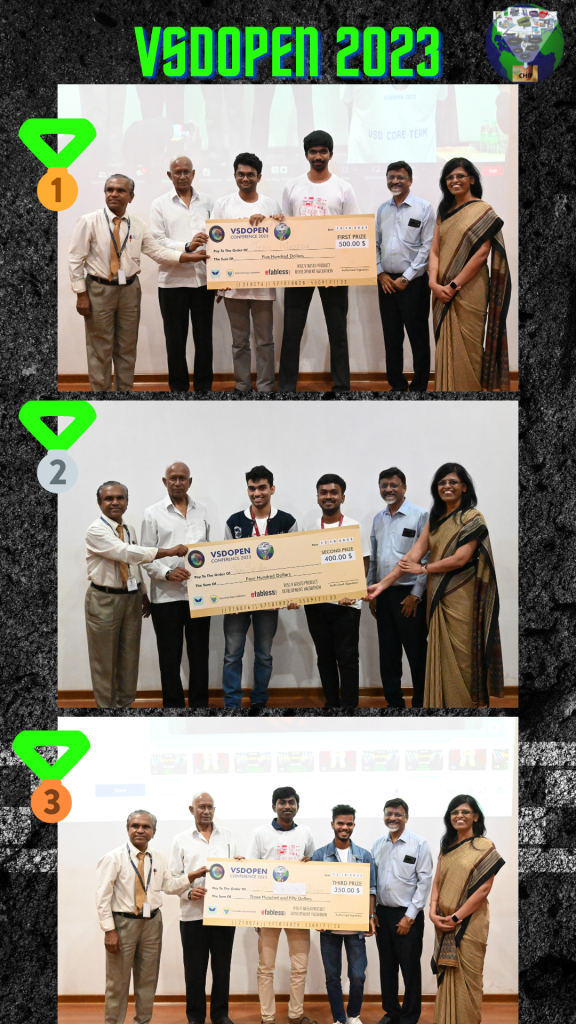 In this groundbreaking year of VSDOpen2023, we proudly launched the VSD's First RISC-V based Product Development Hackathon, marking a pivotal shift in our trajectory. This achievement was built on the exhilarating progress we've witnessed over the years with earlier milestones such as VSDOpen2018's explore Open Source Hardware tools and design, VSDOpen2019's exploration of IPs, VSDOpen2020's innovative Tapeout Flow, VSDOpen2021's landmark VSD Silicon Tapeout, and VSDOpen2022's celebration of our First VSD Silicon Tapein.
The RISC-V based Product Development Hackathon is not just an event—it's a journey from knowledge to application for innovation. Aimed to enlighten young India, this platform is crucial in navigating the intricate path from hardware design to the final product. Emphasizing the global need, yet with a deep-rooted Indian spirit, we underscore the essence of localisation for a sustainable future in electronics. This isn't merely about competition—it's about realizing the dream of an "Atmanirbhar Bharat". More than a hackathon, it's a beacon for budding startups and student entrepreneurs, heralding a self-sufficient tomorrow.
What is RVPdH (RISC-V Product Development Hackathon) ?
The RISC-V based Product Development Hackathon is a distinctive event focused on the design and creation of products using the indigenous "VSDSquadron" RISC-V boards. Participants are challenged to harness the minimal features of the VSDSquadron boards, specifically the GPIOs and UART, to devise innovative applications tailored primarily for the realms of toys and IoT. A pivotal aspect of this hackathon is the emphasis on end-user simplicity: participants are encouraged to conceive uncomplicated yet impactful applications, with a particular inclination (but not limited to) towards sensor-based toys for children. In recognition of outstanding innovation, the top 10 contenders will be rewarded with prizes. Further amplifying the stakes, the leading three products will be introduced to the market by VSD and its associates, with the triumphant teams playing an integral role in the launch.
To conceptualize, design, and develop innovative toys geared towards the educational and IoT-based toy market, ensuring functionality, affordability, and market-readiness.
Utilize the indigenous "VSDSquadron" RISC-V boards for innovative design.
Emphasize applications for sensor-based toys for children, and IoT.
Ensure end-user simplicity in the applications developed.
Reward the top 10 innovative designs.
Launch the top three products in collaboration with VSD and its partners by the end of the hackathon.
| | | | |
| --- | --- | --- | --- |
| | | | |
| | Registration for Hackathon | Complete the participation form | |
| | Hackathon Inauguration Webinar | VSD will introduce to hackathon process and VSDSquadron | |
| | | Draft the complete product idea, block digram and relevant programs | |
| | Map the Pseudocode to VSDSquadron | Simulate the product code on VSDSquadron firmware | |
| | Submit Compiled Results (Error Free) | Submit the complete simulated results for Evaluation | |
| | Announce the Final list of 10 Teams | The BoM and VSDSqaudron will be given to this 10 Finalist | |
| | | VSDOpen 2023 Online Conference | |
The RISC-V based Product Development Hackathon is exclusively tailored for the bright minds of India. If you are a student currently enrolled in an educational institution in India, you are welcome to seize this unique opportunity. However, there's a specific criterion to bear in mind: participation is structured around teamwork. Every team must comprise of two members, fostering collaboration and mutual growth. So, gather your ideas, find a like-minded partner, and register to embark on this inventive journey. Remember, two heads are often better than one, and this event champions the essence of collective brainstorming and creation.
Target Market: Focus your product design specifically on the educational toys segment and IoT-based toys. The intent is to combine learning with interactive technology.
Available Interfaces: Your design should strictly employ the GPIOs and UART interfaces provided by the VSDSquadron board. These are the primary modes of communication and interaction for your product.
Budget Constraints: While innovation is key, cost-effectiveness is paramount. The total cost for the Bill of Materials (BOM) for your product, apart from the VSDSquadron board, should not surpass Rs.1500 or $20. It's a challenge to ensure that quality and innovation are balanced with affordability. FYI – BOM will be re-imbursed by VSD
Evaluation Criteria: The journey from an idea to a product is multifaceted. Finalists will be chosen not just based on the technical operation of their product but also on its market readiness, right up to the packaging. Every aspect, from functionality to presentation, will be scrutinized.
Exclusive Use of VSDSquadron: All participants must use only the VSDSquadron board for product development. No other boards or platforms are permitted.
Team Composition: Teams must comprise of exactly two members. Single-member teams or teams with more than two members will not be eligible.
Original Work: All submitted projects must be original work developed specifically for this hackathon. Reusing old projects or copying from other sources is strictly prohibited and will lead to disqualification.
Deadline Adherence: All project submissions must be made within the stipulated time frame announced at the beginning of the hackathon. Late submissions will not be considered.
Respect and Integrity: Participants are expected to maintain a professional and respectful demeanor throughout the event. Any form of harassment, discrimination, or inappropriate behavior will result in immediate expulsion.
Confidentiality: Any proprietary information shared during the hackathon, if any, should be kept confidential. Misuse or disclosure can lead to disqualification and further legal actions.
Judging Criteria: Projects will be judged based on innovation, usability, adherence to the problem statement, and completeness from technical operation to packaging.
Intellectual Property: While participants retain rights to their ideas, the organizers reserve the right to publicize and share the winning projects. Participants may be required to sign an agreement related to IP before the commencement of the hackathon.
Usage of External Tools and Libraries: While external software tools and libraries can be used, they must be open-source and publicly available. Any tools or libraries used should be duly credited.
Decision Finality: Decisions made by the judging panel are final and binding. Any attempts to influence or dispute the judges' decisions will not be entertained.
Amendments: The organizers reserve the right to modify the rules and regulations at any point without prior notice to ensure the fair and smooth operation of the hackathon.
Financial Incentive: The top 10 teams will be awarded prize money, providing not only a token of recognition for their hard work but also potentially aiding them in furthering their product development or academic pursuits.
Gateway to Incubation: For the top three winner teams, the products they've developed will undergo evaluation for incubation. This is a unique opportunity to transform a mere idea into a viable, market-ready product under expert guidance.
Recognition of Effort: Every team that makes it to the final round will be awarded a completion certificate. This not only stands as a testament to their skills and efforts but also adds value to their professional portfolio.
Boosting Indian Startups: By participating, teams get an opportunity to contribute to the burgeoning startup ecosystem in India. Product-based startups, especially in the domain of electronics and IoT, are the future. Being a part of this movement can set the foundation for entrepreneurial success.
Skill Enhancement: Engaging in such a hackathon is an intensive learning experience. Participants will hone their technical skills, and also develop problem-solving and teamwork abilities – essential skills for the modern-day tech landscape.
Networking: Teams will get a chance to interact with experts, industry leaders, and fellow innovators. This networking can open doors to future collaborations, job opportunities, and partnerships.
Fostering Indigenous Development: By focusing on a product using the indigenous VSDSquadron board, participants are actively contributing to the "Atmanirbhar Bharat" initiative, emphasizing self-reliance and promoting local technology.
Shaping Young India: Young minds are the pillars of future India. Through this hackathon, they get a platform to showcase their potential, innovate, and contribute to the technological advancement of the nation.
Real-world Experience: Beyond the confines of academic learning, this hackathon offers hands-on experience in product development, from conceptualization to execution, preparing participants for industry challenges.